Sibai Lv Exhibition opens
A collection of paintings by Sibai Lv were exhibited at Nanjing Normal University on September 9, 2017. This is part of a series of events to mark 115th anniversary of NNU and the School of Fine Arts.
Sibai Lv learned fine arts from Beihong Xu in his early years and went to France for further study. In 1934, he returned to his alma mater National Central University to teach in the Department of Arts, becoming Beihong Xu's right arm. As the pioneer of impressionism in China, his works are unique in Chinese oil painting history for simple and poetic painting style.
Those who attended the opening ceremony were directors and artists from University of Art and Design Offenbach, Plymouth College of Art, Birmingham City University, Kwansei Gakuin University, Tamba Municipal Miwakare Museum, National Gallery of Armenia, Nanjing University of the Arts, China National Academy of Painting, China Academy of Art, Art News of China and other universities and institutions. NNU President Guoxiang Chen, Vice President Youlian Sun, several staff and retired faculty of the School of Fine Arts, and notable alumni were also present.
Central Academy of Fine Arts, Academy of arts & design, Tsinghua University, Sichuan Fine Arts Institute, Xi'an Academy of Fine Arts, Guangxi Arts University and other arts institutions sent congratulations.
Yi Zhu, Secretary of School of Fine arts Committee of CPC, hosted the opening ceremony and Youlian Sun made opening remarks. Speeches are addressed by the president of Nanjing University of the Art Weidong Liu the president of University of Art and Design Offenbach Klaus Hesse , the representative teacher of the School of Fine Arts professor Bainian Gao, the representative of alumni and Japanese famous calligrapher Kikuyama Tsuyoshi, and the representative of undergraduate and the dean of the School of Fine Arts, She Liu. In their speeches, they looked back to the glorious history of the School of Fine Arts which lasts for more than 100 years, felt inspired by its achievements and placed high expectations on the future of the School of Arts and the development of internationalization in education.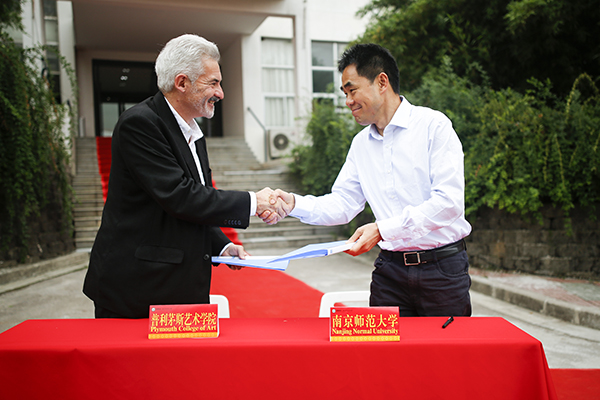 The history of the School of Fine Arts of NNU can date back to the late Qing dynasty when it was the Drawing and Handwork Department of Liangjiang Normal School which was founded by Ruiqing Li. Later it developed into the Department of Fine Arts Education of National Central University.Beihong Xu, a well-known Chinese artist, was appointed Dean of the Department. It was renamed as the Fine Arts Department of Nanjing Normal University after the founding of People's Republic of China. In 1999, the School of Fine Arts of Nanjing Normal University was set up. It was the first Fine Arts Department in higher education that was unprecedented in China's modern and contemporary fine arts education. Prestigious artists including ShutongLi, Fengzi Lv, Beihong Xu, Daqian Zhang, Zhifo Chen, Baoshi Fu, Zuoren Wu, Sibai Lv and Wuliang Pan were invited to teach in the Department.