Seven professors listed into most cited Chinese researchers in 2016
Recently, the world-famous publishing company Elsevier released the name list of Most Cited Chinese Researchers in 2016 which has covered 1776 scholars in 38 disciplinary fields. They are regarded as the most influential Chinese researchers worldwide, among which seven of them are from Nanjing Normal University whose disciplinary fields involve earth and planetary sciences, agricultural and biological sciences, chemistry, mathematics, computer science, arts and humanities.
The research data of the Name List of Most Cited Chinese Researchers in 2016 comes from the Scopus data base which is subordinated to Elsevier. As the biggest abstracts index database of Peer-reviewed papers worldwide, Scopus provides large amounts of data on literature, authors, and research institutions concerning about scientific research activities which make it possible to analyze and evaluate Chinese researchers' world influence in a scientific way.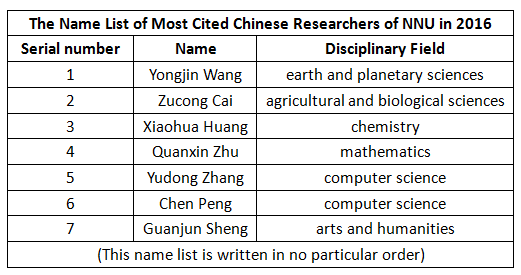 What's"Most Cited Chinese Researchers"? In terms of Bibliometrics, Citations is the basic index to evaluate the influence and quality of the paper. The influence of a researcher can be measured by the citations of all his or her published papers. After being included into the data base, the published papers are accessible to other researchers for information gathering and citation. The paper cited is called cited literature and the author of it is named cited researcher. If a researcher's paper is highly cited which is commonly called high citation frequency, the researcher is therefore named"Most Cited Researcher".