Professor Yafei Li was selected as a Highly Cited Researcher
On November 19, 2019 Clarivate Analytics (formerly Thomson Reuters), the global leader in professional information and analysis services, unveiled its Highly Cited Researchers List 2019. Professor Yafei Li from the School of Chemistry and Materials Science at Nanjing Normal University was selected as a Highly Cited Researcher in Cross-Field, which represents a new breakthrough.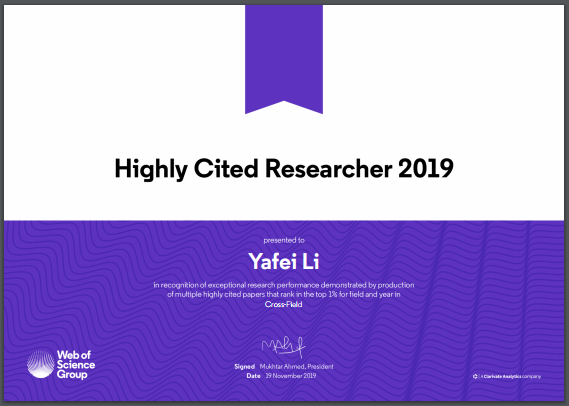 Clarivate Analytics selects highly cited researchers based on the number of their published SCI papers and citations in the past ten years in Web of Science (WOS), indicating that their work has been recognized by their peers to be of notable significance. Meanwhile, the number of highly cited researchers is also an important measure for the Academic Ranking of World Universities, with a weight of 20%. In 2019, the list named over 6,000 researchers in 21 fields across the sciences and social sciences. A total of 636 researchers from mainland China were on the list, covering 19 subjects (including cross-field subjects) in chemistry, engineering, materials science, and computer science, ranking second only to the United States.
Yafei Li, born in October 1984, is a professor and a ph.D supervisor from the School of Chemistry and Materials Science, as well as a member of the Degree Committee of Nanjing Normal University. He has long been committed to developing multi-scale theoretical simulation methods to design new energy conversion and storage materials. Since he started working as a Jiangsu Specially Appointed Professor in October of 2013, conducting independent research at Nanjing Normal University, he has published 56 SCI included papers in world-leading academic journals, such as J. Am. Chem. Soc.and Angew. Chem. Ind. Ed., of which 30 papers have an impact factor greater than 10.0. All the papers published so far have been cited more than 8250 times, and 20 papers have been included in ESI Highly Cited Papers, with a personal h factor of 50. He was awarded funding from the Natural Science Fund of China for Excellent Young Scientists and the Natural Science Fund of Jiangsu Province for Distinguished Young Scientists in 2015. He was selected as a Talent for Innovation and Entrepreneurship in Jiangsu Province in 2016. He was selected as a Young Outstanding Talent in the Ten Thousand Talents Program in 2017 and he won the Dai Anbang Youth Innovation Award given by the Chemical Industry and Engineering Society of China in 2018.