Professor Jijun Li: An explorer, father and teacher
Professor and Ph. D supervisor Jijun Li from Nanjing Normal University School of Geography Science, an academician of the Chinese Academy of Sciences and is a famous geography and geomorphology expert who is over 80 years old,and is one of the first scholars to work on glaciological studies. He is mainly engaged in research on glaciology, geomorphology, Quaternary period and man-land relationship in arid regions and is making great contributions in exploring the origin of the Yangtze and Yellow River, especially in the uplift of the Qinghai-Tibetan Plateau and its influence on China's environment.
In 1958, the Chinese Academy of Science organized the first alpine ice-snow research team in China and Jijun Li, who just completed his post-graduate education in Lanzhou University, became one of the team members and led a squad exploring modern glaciers along the upper part of the Heihe River. This was also the beginning of his long journey of glacier research.
"I was only 26 years old then." When recalling the past, Professor Li's eyes shine as if he was still a vigorousyoung man.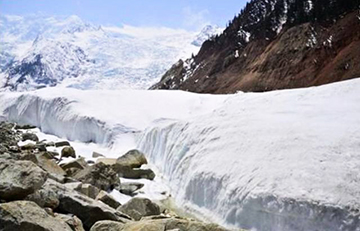 "Without high-tech aids, we confronted all kinds of dangers during the exploration. Once I fell into a crevasse and was badly injured. In orderfor it not to affect my work, I had a rest in the tent for about ten days and then continue working again. During an exploration in Tibet, I suffered from severe lung edema. Thanks to early treatment, I recovered. It could have been life-threatening." said Professor Li.
The first-hand field data is essential in geological work. Professor Li and his fellow researchers collected a great deal of valuable data from their explorations, which became the solid foundation of their achievements in scientific research. Later on, the monographs Tibetan Glaciers and Hengduan Mountain Glaciers edited by Professor Li attracted much attention both at home and abroad and many of his research papers such as The Influence of the Uplift of the Qinghai-Tibet Plateau won the first prize of the National Prize for Natural Sciences. Thanks to the hard work of the researchers including Professor Li, glaciological research in China is now recognized internationally.
Ding Li, son of Professor Li, was influenced by his father since childhood and chose to work on geographyresearch. Now he is a professor in the College of Earth Environmental Sciences of Lanzhou University and a member of the China Association for scientific Expedition.
"When I was a little boy, my father often told me stories of his field researchof which I was very interested in. So when I grew up, I organized field expeditions myself and went to explore the glaciers found and named by my father and his fellow workers, such as Bayi Glacier. I also taught a course about wildness survival in Lanzhou University," said Ding Li. 
In Ding's memory, his father knows how to enjoy life.
"In my childhood, I hardly saw him in the summer because he always went out on expeditions (summer is the most suitable season to explore glaciers). As soon as he came home, he would begin his drawing work with a planimeter, which left a great impression on me. He was very busy and every time he came home I would be happy. He was a good cook knowing how to makedelicious stewed pork. He was also good at sketching and taught me how to draw. Cooking and sketching are skills that he acquired and practiced during his expeditions." said Ding Li.
Professor Li has students all over the world and 3 of them are academicians: Dahe Qin, Tandong Yao and Fahu Chen. Among them, Dahe Qin is most familiar to the public because he was the first one in mainland China to trek across Antarctica.
"Dahe Qin is a hard worker who insisted to go to the Antarctic even though he got sick before departure. During his Antarctic expedition, Dahe Qin, as the team leader, at times would keep working, digging holes and taking snow samples while other members were sleeping." said Professor Li.
Tingjiang Peng, a postgraduate student of Professor Li, now is a teacher himself. Yesterday we met Tingjiang Peng in Professor Li's home.
"Professor Li is very knowledgeable and talented. He is also well-read in history and literature and always quotes classic works while giving his lessons. He lives a simple life and can wear a pair of old pants for a couple of years. As for his students, he is often takes good care of them." said Tingjiang Peng.
At present, Professor Li is over eighty years old and is unable to move freely because of surgery, but he is still serves as a students' supervisor.
"I still have 2 postgraduate students and 3 doctoral students, so I can never slack. Only when they all graduate can I take a rest,"said Professor Li.