On Commencement Day, they celebrate
Nanjing Normal University celebrated its Commencement day June 18, 2017 in NNU Stadium. The University community gathered with the Class of 2017, their families and their friends to recognize and celebrate their achievements.
Here are some highlights of the commencement day:
As is tradition, the commencement ceremony for undergraduate students was held in the morning. The commencement ceremony for graduate students was held in the afternoon.
"Thanks for the University, teachers, parents and classmates"
Yijin Yuan, who graduated with a bachelor's in administrative management from the School of Public Administration, shared her touching memories in the past four years with us. "I am overwhelmed with so many emotions, especially gratitude for the University, teachers, parents and classmates," said she, "September 10th is NNU's 115th birthday. Happy birthday!"
— Yijin Yuan
"Nanjing is my second home"
Milena, a Chinese Government Scholarship winner who came from Bulgaria was proud of herself. Five years ago, when she came to Nanjing for the first time, she didn't believe she can finish university. "But now I love living here. I love boiled fishes with pickled cabbage and chili and I will invite my Bulgarian friends to eat duck blood and vermicelli soups."
— Milena
"University builds character"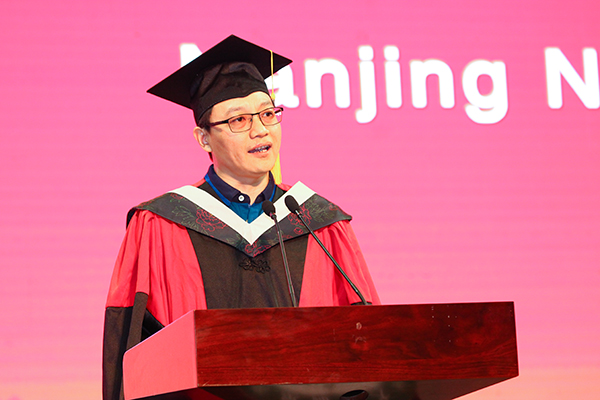 Linwang Yuan, professor and Ph. D supervisor in School of Geography Science, shared his academic experiences and some advice for life after NNU with all the students. "Time passes, while memory remains. Some people and experiences will leave a mark in your heart. That is what university gives you," said Professor Linwang Yuan.
— Linwang Yuan
"Embracing the future"
Daying Liu, alumnus of NNU, is now the Deputy Editor-in-Chief of Yangtse Evening Post. He encouraged the students to possess profound knowledge and a sense of morality. "You should build your core competitiveness," he said," Stay optimistic and have good sense of teamwork."
— Daying Liu
"Begin again"
Yue Han, who graduated with a doctor's degree in pedagogy from the School of Education Science, reviewed her study process at NNU. Ten years ago, she came to NNU after finishing high school. Ten years later, she will leave NNU with talents and knowledge. "I will bring my powers and courage which the University gave me to my work. I will begin again!" said she.
— Yue Han
"I=F+S+S"
Cuiqin Li is mother of student Xian Wang who graduated from the School of Mathematical Sciences. "Individual's development requires joint effort of the university, family and society. That is I=F+S+S," she said. "My son is more optimistic, confident and independent than before. NNU contributes a lot to it."
— Cuiqin Li
"Gene editing & Gene expression"
Guang Yang, Professor, Ph. D Supervisor and Dean of School of Life Sciences, shared his understanding on life. "Hard work and dream help complete your life," said Guang Yang."You receive gene editing at NNU and absorb NNU genes into your body. I wish all of you will focus on your work after university and have high quality of gene expression. "
— Guang Yang
"This stop is Nanjing Normal University"
NNU president Minqiang Hu encouraged the students to read widely in his address. "Let reading be your lifestyle," said he."Extensive reading can not only inspire you through interdiscipline but also become the cornerstone of your career. Read books and everything around you, and you will know the truth and the world."
"Don't forget the autumn leaves at the Ninghai Road; Don't Chinese parasols; Don't forget the metro station at the Xueze Road: This stop is Nanjing Normal University!" Minqiang Hu said.
— Minqiang Hu