NNU welcomes youth worldwide at Shuyifang Studio
Thursday afternoon, April 4, 2019 on a warm spring day, more than 100 young participants from 85 countries came to Nanjingto attend the Third International Youth Forum (IYF) on Creativity and Heritage along the Silk Roads held in Changsha and Nanjing, from the 31st of March to the 6th of April 2019, focusing on the theme "Youth Creativity and Innovation in the Age of Media Arts". The third edition was organized as a follow-up to and building on the successes of the first twoIYF held in Changsha and Quanzhou in April of 2017, and in Changsha and Nanjing in May of 2018. It is a joint initiative between UNESCO and the Chinese National Commission for UNESCO.
During the forum, young participants were invited to visit "Shuyifang", which is located on the Suiyuan Campus of NNU, to experience good practices in creativity through nature and to have an opportunity to discuss how youth can support and benefit from culture-based development.
Yinchun Zhu, an NNU graduate, is the present director of the Nanjing Shuyifang Design Studio. He is both a maverick book designer and an artist who has twice received the award "The Beauty of Books" in China. Living and working here for more than ten years, with the motto "Live as a book designer, act as an artist", Zhu shared his own experience on the book designing process and stories behind his own books.
Young participants are listening to Zhu's sharing carefully/ photo provided by Jiaxin Wan
As a designer, Zhu is known for his bold and inspiring designs, which are derived from his strong belief in Taoism—letting things take their own course, and from his own theory: the style of a book's cover should "naturally grow out of its own disposition". As an artist, his obsession with insects made the studio break into applause: After bringing a wounded ants home, he published anexperimental photo collection "Ants Whispering" recording an ant's life, which was awarded the world's most beautiful book; usinga collection of curved fonts, made from traces of insects dipped in ink left and left to dry on the paper, "The Book of Bugs", published in 2015, has been on permanent display at the British Library, as it's the first bug-written book in the world.
Alejandro (right) from Argentine/ photo provided by Jiaxin Wan
"I'm really enjoying it."After visiting Suiyifang Studio, Alejandro, an international relationship undergraduate from Argentine said to voice his appreciation for Zhu and share his similar excitement for ants. "My father gave me an ant farm when I was 8; it seemed like a special gift for me. I loved them so much so that I used to spend most of my summer afternoons checking the ants."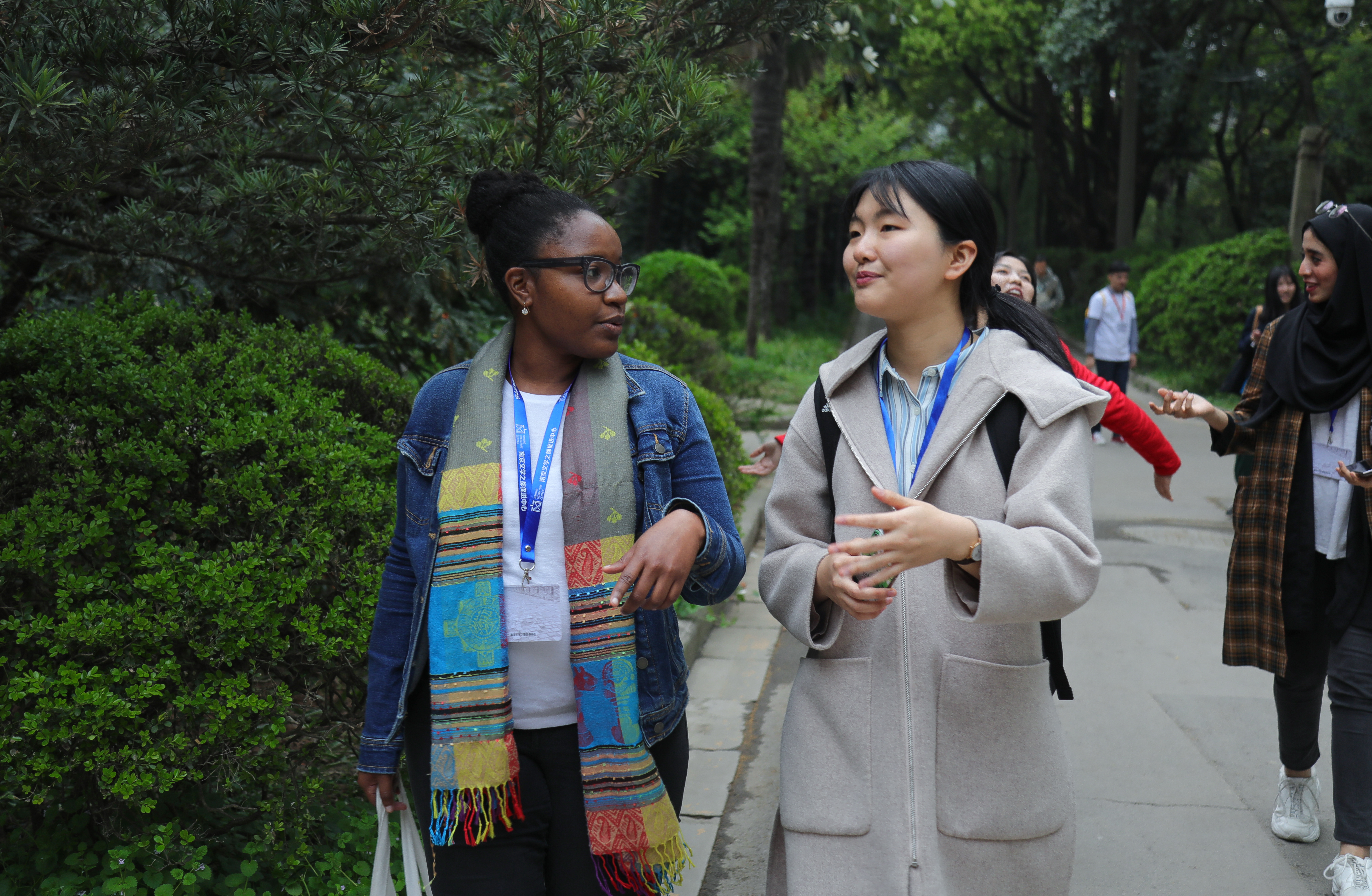 Danielle (left) from Jamaica Photo provided by Jiaxin Wan
The aim of IYF is to provide a unique global platform for the youth around the world to engage in international communication. "I think it's a great opportunity. We are all from different countries, we speak all different languages, but still we have the same values. I'm so happy to meet new friends here," the trip to Shuyifang seems to be a meaningful experience to Danielle from Jamaica, "and thanks for Zhu, his creativity through nature made me realize that small things can really trigger something big."