20th annual NNU science and technology culture month enhances students' academic skills and entrepreneurship
The 20th Annual NNU Science and Technology Culture Month officially started on theSuiyuan campus on April 11th,2018, witha lecture given by Professor Conglai Fan, a Yangtze River Scholar, from Nanjing University. Focusing on the topic – "The Exploration of Pro-poor Growth and the Road of Common Prosperity in China", he emphasized the significance of innovation and entrepreneurship in pro-poor growth and in comprehensive national development. University students should be an active part of national innovation and entrepreneurial development and should obtain the necessary professional skills to accomplish that, which also meets the goal of the Science and Technology Culture Month.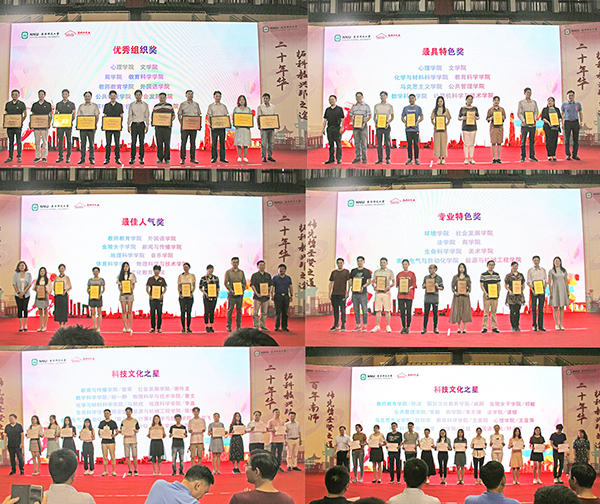 This event focused on strengthening graduate students' innovative and practical experience by organizing a series of activities encompassing academic discussions, science and technological innovation, employment and entrepreneurship.
One activity, the Third Simulated International Academic Conference, is a practical example of training students' international communicative ability. Each one of the ten representatives includingprofessors and students with different academic backgrounds, gave a 15 minutes speech fully in English on topics concerning their advanced academic research directions or research results, which was challenging but was also very beneficial foreffective communication at an international level. In particular, for students who study science, this was a precious opportunity to practice exchangingcutting-edge ideas at an international academic conference effectively even though they have to use a second language. Not only does this simulated conference encourage students to possess a global mindset but also advances our university's goal to become a "double first-class" with "international influence" elite university.
Each school organized activities with distinctive features. For instance, in order to develop innovation and entrepreneurship, the NNU Business School cooperated with GuotaiJunan Securities and started the GRIT Leaderless Group Discussion, in which students were given serious and pointed questions concerning corruption and company management in the business arena. Students also had the opportunity to garner professional feedback from business insiders. This experience could be considered as preparation for solving real Gordian Knots in their future business management roles.
At the closing ceremony, 10 schools were awarded an "Excellent Organization Award" and 25 graduate students were awarded "Star of Science and Technology Culture". With 20 years of history, NNU Science and Technology Culture Month has influenced generations of students, some of whom returned to the university to express their gratitude and respect to their teachers and the university, as well as the unforgettable opportunities this event has given them.