Control of Blood Coagulation and Microbial Infection by Biomimetic Surface Modification
WHEN:
Wednesday, 2017, November 1 - 15:30
SPONSOR:
School of Chemistry and Materials Science
DETAILS: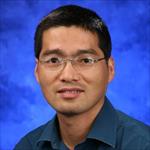 Lichong Xu is an Assistant Professor in the Division of Applied Biomedical Engineering in Department of Surgery at Penn State University, USA. He has a Ph.D. from The University of Hong Kong. Since 2005, Dr. Xu has collaborated with Dr. Siedlecki in the areas of characterization of biomaterials, biomaterial associated thrombosis and microbial infection, protein adsorption, and the biomimetic modification to improve biocompatibility of biomaterials. He has authored over 30 journal articles and 8 book chapters. The research interests of Dr. Xu also include corrosion, biocorrosion, biofilms/biofouling, atomic force microscopy (AFM) and its application in material science and biomedical engineering.